Request an Appointment

with Our Grande Prairie Dentist

WE FOLLOW THE ALBERTA FEE GUIDE
Our Grande Prairie dental clinic puts our patients first! We provide quality dental care at an affordable price for you and your whole family to help you stay within your budget. For more information about the fee, guide contact our dentist near you today!

SAME-DAY DENTAL EMERGENCIES
If you or a family member are experiencing a dental emergency, it's important to contact our dentist in Grande Prairie immediately. We offer same-day visits for dental emergency cases. For more information, contact our dental office in grande prairie today.

WE PRACTICE SAFE DENTISTRY
Our grande prairie dentist near you is committed to providing a lifetime of optimal oral health for our patients. This includes a mandatory screening process, PPE required to be worn by all staff, and sanitization before and after appointments.

$6 Teeth Whitening Special
Northern Dental Centre offers $6 Teeth Whitening to our loyal patients. Our Grande Prairie dentist provides affordable take-home teeth whitening kits to patients looking to improve their smiles. Ask us about it on your next visit!
Grande Prairie Dental Clinic Services
Northern Dental Centre
Your Dentist in Grande Prairie
The Northern Dental Center has been providing dental care to the Peace Region for over 30 years! We care for multiple generations of patients, from young children to the elderly. Our dentist in Grand Prairie is committed to providing a lifetime of optimal oral health for our patients.
Our compassionate and caring team members will guide and assist you with all your inquiries and concerns every step of the way. Our dentists' top priority is your health and our dentist near you is here to listen to your concerns and ensure that all of your dental needs are well taken care of.
Whether you want to enhance your smile or have general oral health concerns, our Grande Prairie dentist has a service to meet your needs. If you're looking for a dental clinic near you, look no further than Northern Dental Care.
$6 Teeth Whitening Special: Offered to Our Existing Patients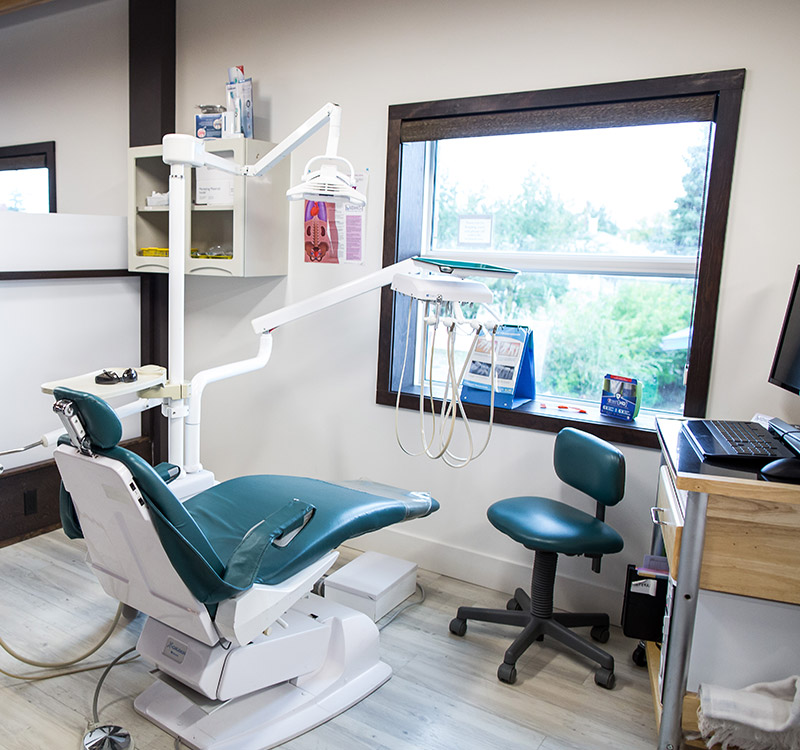 A Family Dentist Near You
Your Smile is Our Top Priority
When caring for your oral health it's important to visit a dentist in Grande Prairie that accommodates all of your family's needs. The team at Northern Dental Centre goes above and beyond to ensure this is a safe and comforting environment for you and your family members. We implement safety and health protocols within the office to protect our patients and staff members. By utilizing social distancing, strict sanitization and pre-screening measures, we can ensure this.
It is mandatory for our team to wear personal protective equipment at all times while in the office and patients are asked to wear masks and hand sanitize upon arrival as well as using infrared temperature scanners before each appointment with our dentist in Grande Prairie. You are more than just a patient at our Grande Prairie dental office, you are treated like family! We look forward to seeing you and your family at your next appointment at Northern Dental Centre. If you would like to request an appointment with our best dentist near you or a walk-in clinic grande prairietoday!
If you, a family member, or a friend need a trustworthy dentist in Grande Prairie, we highly encourage you to come to our local dental office. At Northern Dental Centre, we are passionate about helping our patients improve and maintain their smiles. If you have questions at all, give us a call today!
At our local dental clinic, we offer a large selection of services, all of which are designed either to preserve, refine, or repair your teeth, gums, and other oral structures. Dental bonding, dental fillings, laser therapy, teeth whitening, and Invisalign treatment are just a few examples.
Yes, you can. Contact our team to arrange a time to come in. Our dentist will be happy to meet with you. Once you're comfortably seated, they will speak with you about your reasons for coming in, your dental/medical history, and what your expectations are. They will also examine your mouth so they understand where your oral health currently stands.
When this is done, they will identify the correct course of treatment for you and proceed with it.
Sometimes, our teeth will ache slightly and this is okay; biting down on a piece of sharp food or brushing a bit too aggressively can cause this. However, if the pain doesn't go away, you may want to visit your dentist since this can be an indication of a cavity or an infection.
Our dental practice accepts most major insurance plans. We'll assist you with the necessary paperwork and ensure that the cost of your treatment adheres to the Alberta Fee Guide. Please don't hesitate to ask our dentists, hygienists, or administrative staff any questions you have about this process.
Making an appointment with our dentist in Grande Prairie is easy! All you need to do is call us at (780) 532-1786, fill out the form on our website, or you can pop into our dental practice, located at 10014 102 Ave Unit 201. We hope to work with you soon!