Dental Implants Near You
Dental implants are a specialist subject for us at the Northern Dental Centre. We have helped hundreds of patients receive the implants they need. We offer implant dentistry to replace missing teeth that have been lost through disease and accidents. Most dental implants are held together by a dental bridge. If you want to replace a missing tooth and regain your beautiful smile, consider receiving dental implants in Grande Prairie. We are happy to offer dental implants near you at Northern Dental Centre.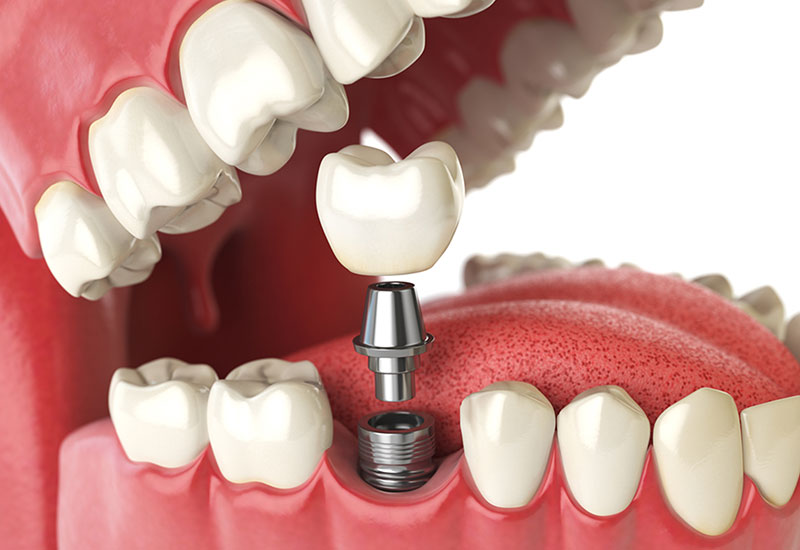 Why Should I Receive a Dental Implant?
Dental implants are not just an aesthetic addition to your mouth. Yes, they make you look good, but they are also critical for your oral health. When you lose a tooth you have lost bone density in your jaw. This can ruin your bite, which will require correction later, and lead to further tooth loss.
A dental implant places more pressure on the jawbone as you chew your food. The jaw responds by building bone density, thus strengthening your mouth. We believe that anyone who has lost a tooth should seriously consider acquiring an implant in Grande Prairie to prevent any further damage to the mouth.
What if You Don't Have Enough Bone Mass?
A dental implant needs a stable base for it to work. The problem is that when patients lose teeth because of a loss of bone mass it can make an implant seem unsuitable. We are here to tell you that we can correct that problem as well. There are several procedures we can use to artificially replace that lost bone mass. Any patient who needs an implant can receive one, even if it requires an additional procedure first.
How Does Our Implant Procedure Work?
If you're interested in receiving dental implants near me, you will first schedule a consultation to see if this is the right procedure for you. Your dentist will discuss this further in-depth with you, but here is a basic step-by-step guide for what to expect if you opt for dental implants at Northern Dental Centre:
Step 1 – The implant is inserted into your gum.
Step 2 – We wait for the implant site to heal.
Step 3 – The implant site is exposed again and an impression is taken.
Step 4 – The crown or bridge is inserted.
We monitor your progress carefully as there is a chance of the implant being rejected. This procedure requires multiple sessions to complete. Our team will review all aspects of this procedure with you and confirm if dental implants are the best option for you. If you are interested in dental implants near you, contact our dental clinic. We provide dental implants in Grande Prairie, AB.
FAQs
Are dental implants made of different materials?
Yes, they can be made by a variety of different manufacturers. It all depends on what the dentist thinks is best suitable for the patient.
Does the procedure hurt?
If you are receiving dental implants near you, the procedure has a minimal amount of pain involved because a local anesthetic is used. Post-op pain varies on the patient, however, we will prepare you for all situations.
How long do dental implants last?
Implants that are taken care of well can and do last a lifetime.
How long does the implant healing period last?
It can take anywhere from three to six months for the implant site to heal.
To learn more about dental implants near me, schedule a consultation. Our office offers dental implants in Grande Prairie, AB.